William Epps Overby 
Father of David Overby and Grandfather of James W. Overby and Great-grandfather of Bertha Overby Arthur
My Great-Great Grandfather – by David Arthur
Birth:  Dec. 28, 1818
Chesterfield County
Virginia, USA 
Death:  Apr. 21, 1863
Hanover County
Virginia, USA 
Son of Robert and Mary Overby. Died at age 44. 
Ref - Blandford Cemetery records, his date of death 21 Apr 1863, and burial 28 Apr 1863.
Civil War Service
Enlisted March 9, 1862 in Sussex C.H. VA:
PVT, Co. "D" 13th Regt, VA Cavalry (formally the 5th VA CAV) He appears on the roster of Winfields Co., 5th VA Cav.
Note: Resided in Sussex Co.; Co. K, 5th VA Cav; died of consumption at Hanover Academy Hospital, VA  Burial:
Blandford Cemetery 
Petersburg, Virginia, USA
(Blandford Book transcription) See Appendix
APPENDIX
Blandford Cemetey Book – Register of burials April 1863 (Left Page)
28 (date buried 4-28-1863) Overby, Wm E  Pri. Co D 13th Sussex Va Cav.) Robert & Mary Overby (parents)
<![if !vml]>
<![endif]> 
Blandford Cemetey Book – Register of burials April 1863  (Right Page)
21 (date died 4-21-1863) No Report (cause of death) 44-4 (age 44 years - 4 Months) Chesterfield Co. VA  Put on SW cor of his sq - by S.V. Staileman (Info from Blandford website - Last Name:   STAILEMAN, First Name:   SALLY, Middle Name:    V, Date of Death:   3/26/1863, Interment Date: 3/27/1863 – Parents Francis and Anna Staileman)
<![if !vml]>
<![endif]> 
 <![if !vml]>
<![endif]>
<![if !vml]>
<![endif]>
<![if !vml]>
<![endif]><![if !vml]>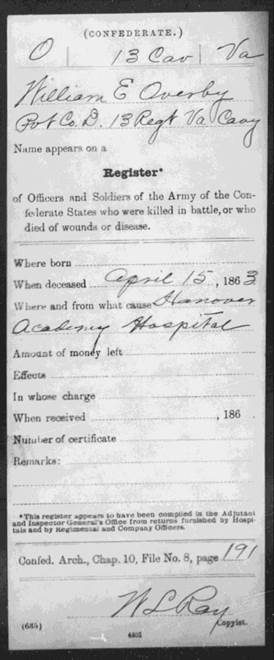 <![endif]>